It's always better to plan ahead
Want to enjoy all the conveniences and comfort of a trailer on your next camping trip but not quite up to purchasing one? Mobilife R.V. Centre has the affordable solution for you! Rent a tent trailer for your next vacation! Just call 519-653-5788 or use our online rental reservation form at the bottom of this page.
Please note: Mobilife RV Centre does not rent motorhomes or any recreational vehicles other than Tent Trailers.
The Clipper 106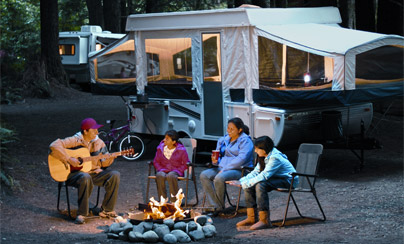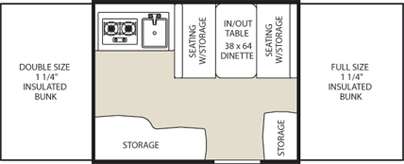 » Sleeps 6
» Dry Vehicle Weight 2000lbs
» Can be towed by most 6 cylinder Cars, Vans and Sport Utility Vehicles
» A vehicle weight rating of 3500 lbs or more is recommended
Equipped With:
» Fridge
» Sink
» Two burner stove
» Furnace
» Awning
» Interior lighting
» Spare tire
» Propane
Rental Rates
July through August
$495.00 per week - Friday to Friday (1 week)
Not available for weekend rentals
Pickup - Friday 1:00 - 4:00 pm
Return - Friday before 11:00 am
September, May and June
$375.00 - one week rental
$300.00 - weekend, Friday to Monday
Damage Deposit
$500 damage deposit due on pick up and refundable on unit return after check-in.